yes... your eyes are not deceiving you.. that's a whopping 5 PEE STICKS!! and after the 5 i still didn't believe it. now don't get me wrong... babies are a miracle and i have always wanted to have lots of them but this couldn't have come at a worse time. we found out i was pregnant 2 weeks before alex had to take the bar and just days before i was supposed to be moving back to miami. needless to say it was eventful. we are beyond excited but it did take a while to sink in. i do have moments that i feel scared shitless but that will pass (i keep telling myself that)...

i will be 14 weeks preggers tomorrow. i cannot believe that there is a little person growing inside of me (even thought i am
growing and im not too thrilled about the me growing part). we love our little "peanut" already and he/she isn't even physically in our world yet. i figured that since this blog is very quickly turning into a baby blog i might as well do a little survey.

don't mind the fat, moody, hungry girl you are about to see...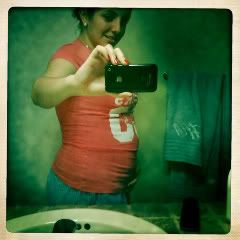 How far along?: 14 weeks
How big is baby?: is it bad that i don't know?? when i went to the doctor a few weeks ago she told me that peanut was an inch and a half but its been a few weeks... ill get on it though and keep track.
Weight gain?: NOTHING!! and i cannot be happier about this.
Stretch marks?: ::tear:: i discovered some on the bottom of my tatas... i cried, complained, and then got over it. i now apply 100% shea butter 3 times a day... call it ocd it you like
Maternity clothes?: i caved and bought some jeans... my jeans were soo uncomfortable!
Best moment this week?: my in-laws bought us the most amazing bassinet
Food cravings?: coke, beer, and white rice with black beans... i know its all weird
Gender?: hmmm...??
Movement?: not yet but i can't wait!
Belly button?: innie
What I miss?: sleeping! i wake up at least twice to pee... and i used to be able to sleep through anything but NOW... i wake up when alex rolls over
Labor signs?: it's too early
What I'm looking forward to?: finding out the sex and my next appointment on monday
Milestone?: hmmm... 2ND TRIMESTER!!!!!