YIKES! time is flying...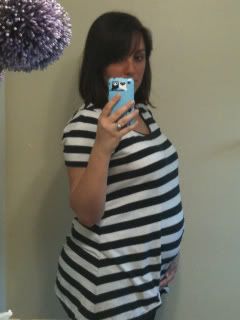 how far along?: 22 weeks.. i forgot to do week 21, whoops.. i think this is becoming a biweekly thing
how big is baby?: 11 inches! and almost a whole pound... i will find out the exacts on Monday, we have an ultrasound scheduled to check out little olives heart
weight gain?: a whopping 7 pounds total! a pound a week from here on out?
stretch marks?: wahhhhhh.... on the boobies and i am doing everything in my power that it stays that way BUT... i found a stupid red line on my left hip :(
maternity clothes?: yep.. my jeans and a couple of shorts. everything else is just big sizes. and i had to go buy "maternity bras".. they aren't really maternity but my boobies are SO big that they don't fit in my pre pregnancy bras :(
best moment this week?: this week alex and i have watched FRIENDS in bed together before falling asleep... :)
food cravings?: crab claws, crab claws, and more crab claws.. maybe some tomatoes too
gender?: little girly parts
movement?: SHE STARTED KICKING ME LAST NIGHT!
belly button?: still in
what i miss?: being able to stay up late.. i feel like a 90 year old woman
labor signs?: nada.
what i am looking forward to?: ultra sound on Monday and doctors appointment on Tuesday
milestone?: i feel great!