so the craft bug inside of me is going crazy. i want a sewing machine (so i can learn to use it), i want to knit, i want to make things (for the baby.. and me!), AND i am obsessed with going to michaels and joann fabrics. i went to michaels first to see if i could satisfy my craving but found nothing. then i made my way to joann's and low and behold.. the beast has been born! this is what i bought...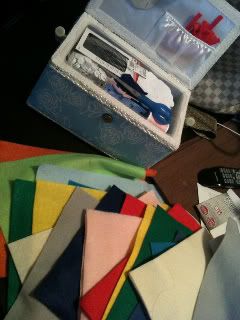 i stocked up my sewing box, bought some thread, and enough felt to make outfits for an entire school of children
i have gone craft crazy. i can't stop. i make bows, flowers, more bows, and then 10 more flowers.
exibit A: